Often Philippians is called "the Epistle of joy." There is much there about joy. But as I preach through it, I'm discovering it is also "the Epistle of conflict."
On Sunday I preached on Philippians 4:1-3. It was a short week of preparation, and a busy few days for the holiday. After I preached the sermon, I wish I had developed a few things more thoroughly. I needed to meditate on this text more thoroughly (more so than usual, I suppose).
Therefore, my brothers, whom I love and long for, my joy and crown, stand firm thus in the Lord, my beloved. 2 I entreat Euodia and I entreat Syntyche to agree in the Lord. 3 Yes, I ask you also, true companion, help these women, who have labored side by side with me in the gospel together with Clement and the rest of my fellow workers, whose names are in the book of life.
This passage begins with a reference to the conflict without. Paul calls on them to "stand firm", applying the realities of gospel humility and discipleship he's been discussing since the 2nd chapter of this letter. They are to stand firm against the Gentiles who persecute them, and the Judaizers who seek to lead them astray into ritual. Both are enemies of the cross.
They were to stand together as "my beloved brothers (a better translation of the phrase), whom I long for, my joy and crown … my beloved." Philippi was a Roman colony. Many of the people gained their Roman citizenship by their service in the military. They were familiar with fighting formations requiring them to stand firm together. Now they stand no simply as fellow soldiers but people bound in love by Jesus.
Our conflict with them is about the claim of the gospel. It is about the contrast between living as good citizens of Rome versus living as citizens of the heavenly city (1:27; 3:20).
In this conflict we are truly enemies, citizens of two different and warring kingdoms. They may use earthly weapons against us, but we are not to use earthly weapons (material or immaterial) against them. We've been given the armor of God (Eph. 6).
We can find points of commonality with the surrounding culture. We won't disagree on everything. Those points of commonality are windows of opportunity for the gospel (to borrow Rick McKinley's terminology).
What we cannot do is compromise. Acknowledge common ground, but not compromise. There are also windows of opposition we must contend with. They must be converted, which includes changing their views that are out of accord with sound doctrine. Stand firm in the face of an intimidating enemy though outnumbered. Our God will be faithful.
But remember that at the moment, they are your enemy, not your brother, and should be treated as one.
Paul then addresses conflict within the congregation. You can't stand firm together if you are at odds with one another. Internal conflict distracts us from mission, even if it is about how to carry for the mission.
Paul urges both women to work it out, come into accord. First this indicates that women are important and do important things. They were gospel partners with Paul. Their conflict was not incidental to church life but threatened it. No conflict between siblings in Christ is insignificant. They must be worked out, and both parties bear responsibility to do so. It was not just Euodia's responsibility. Not just Syntche's responsibility.
If we think of this in terms of the slippery slope of conflict these women were likely "peace-faking" by engaging in flight. They were avoiding each other, operating on opposite sides of the room, refusing to acknowledge each other. Perhaps there had been times of peace-breaking, fighting. There may have been verbal assault. Nothing as serious as Cain deciding to kill Abel, but still attacks upon one another.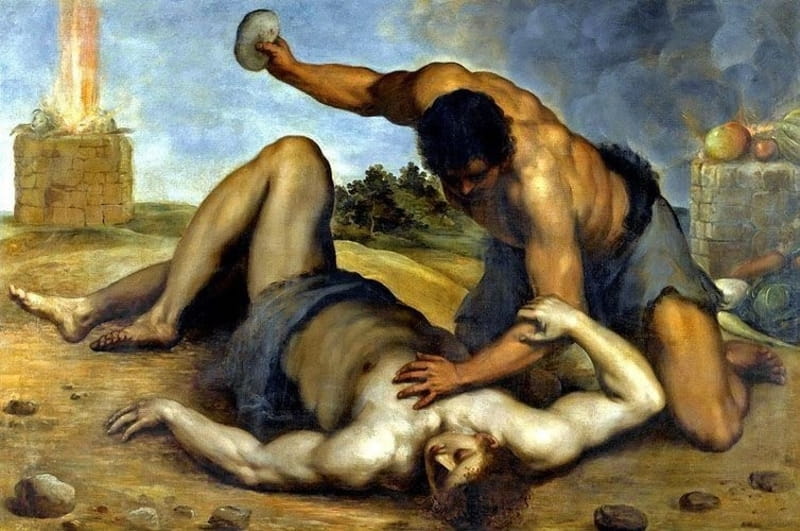 They weren't living like people who were beloved brothers & sisters. Instead they were treating one another as enemies. They needed help to begin treating one another as beloved siblings. They needed help to get on the same page when it comes to worship, discipleship or evangelism. Those are things that matter, but frequently we act like our way is the only way. The need to agree with one another is even more important when we are fighting about things unrelated to the gospel (carpets, paint, loans or which property to buy).
Paul calls the "true companion" to act as a mediator to make peace, a peace rooted in Christ's dying on the cross for our sin. Unity was to be restored by repentance and reconciliation, which are impossible apart from the gospel which makes us sons of God in the first place. Because of the gospel we treat the sins of our brothers differently than the sins of our enemies. This is important because of how we engage in conflict. The issues we disagree on are likely not sinful. What is sinful is our peace-faking and breaking. That sin is contrary to our status as brothers. In the conflict with the world it is in keeping with our status as enemies.
We are to once again find the common ground, the places we agree. Stand firm in your agreement. Then find a place of principled compromise among options that fit within biblical boundaries. You don't compromise with the enemies of the cross, but you do with your beloved brother.
Sadly we often reverse this. We compromise with the world and stand our ground with our brothers as if they were our enemies.
Paul wants gospel partners to sort it out, as much as it depends on them. He knew the pain of a sharp disagreement that dissolved his partnership with Barnabas (Acts 15). We know he reconciled with Mark. We don't know about Barnabas.
Paul recognizes that we engage in two different conflicts: within and without. How we respond is different. Don't reverse them or you'll really mess it all up. Get it right and you'll see the gospel work powerfully in your community.