Imagine, if you will, a train at the station. You've been sitting on the train, ready to go. Every time the doors begin to shut a new group of people show up and force the doors open. It seems full but it never seems to move.
That is how I feel about the race issue. I'm ready for progress, for changes. I'm ready for the cities to stop burning. I'm ready for the necessary reforms to policing to take place. I'm ready for people to forgive, reconcile and begin to try and make this whole thing work. But we seem stuck at square one. It's like Groundhog Day.
Weep with Me: How Lament Opens a Door for Racial Reconciliation by Mark Vroegop seemed like a different kind of book. It isn't about how white people are horrible, fragile, clueless etc. It seemed to offer a way forward out of this Sisyphus-like mess.
Vroegop repeatedly tempers our expectations. He's not offering a magic bullet. He isn't saying "do this and everything will be right as rain." This is an important step that can help us make progress because it will convey empathy (or compassion). It is part of the way forward, but not the totality. Necessary but insufficient. It is important to keep that in mind.
His first book, Dark Clouds, Deep Mercy: Discovering the Grace of Lament is the background of this book. He seeks to apply the work he did there to the problem at hand.
"The biblical language of empathy and exile, perseverance and protest, can open the door for reconciliation."
In his introduction Vroegop notes that the gospel has produced racial reconciliation in the past. Antioch was a metropolitan city filled with people from different backgrounds and ethnicities. Roman cities, he says, were segregated by design. At its founding there was a wall built to segregate the Syrians from the Greeks. Division and violence were common. The church was THE desegregated population of the city.
Keep in mind, the city itself didn't experience reconciliation. The church did. The gospel created unity but people who rejected the gospel didn't experience this unity.
This is not where he goes with it but perhaps we need to keep this in mind. The world CANNOT and will not be reconciled precisely there is no source of unity, no ground of forgiveness, no power for the heart change necessary. The world will continue to devour itself unless it sees the power of the gospel in racial reconciliation displayed in the church and believes.
This is not where any of us want to go with this. But there is some truth there. We can't expect those who can't love selflessly to love selflessly. The works of the flesh include divisions, factions, pride and violence. Romans 1:18ff can only be undone by the amazing work of Jesus in Romans 5 by which He died for the helpless, ungodly, weak enemies who fell in Adam. To expect the sons of Adam to act like the sons of God is pure foolishness, unless we are first ambassadors of God imploring people to be reconciled to God so they can be reconciled to one another.
But I digress from this book I read.
Part 1: The Meaning of Lament
Vroegop begins the book by talking specifically about lament, and he begins with prayer as the language of lament. Lament is a type of prayer, and a common prayer, in the Psalms.
Before getting too far he offers a series of definitions. This is good practice since we want to know how he understands particular terms. At times his definitions were frustrating, however. He uses the sociological re-definitions of recent invention. These arise from a different world view, and one that isn't simply different but I would consider "anti-gospel" at points. While all truth is God's truth, not all that purports to be true is truth, and many truths have untrue applications (there is a blog post critiquing John Fea's embrace of CRT simmering in my head).
At one point this embrace of worldly thinking creates a weird series of statements. He quotes Daniel Hill about how whites began to "deemphasize the differences within various European ethnicities and began to describe white people as a human collective that was inherently superior to people of color." I wrote in my margin "how do we explain hatred of Irish, Italians, European Jews…?" As if he'd heard me, Vroegop notes that the Irish initially formed a bond with African-Americans, but eventually Irish people wanted to be accepted by the majority, embraced racism against African-Americans and "became white." I guess his definition of "white", which is unstated, is very different than mine. Mine's about pigmentation, not oppression because when you associate "white" with sin … you're racist. Despite being frustrated, I continued.
This is not just frustrating, however. It is an unbiblical concept which is unedifying, inaccurate and feeds the flames of the racist anti-racism movement. Just as a rose by any other name would still smell as sweet, racism (or prejudice and favoritism) by any other name remains as foul.
Let's return to the matter at hand, lament. Lament is not simply complaining but an expression of pain that leads us to trust God. It faces the brokenness of our world and the specific afflictions one experiences, and recommits oneself to God to make things right in due time on the basis of His promises.
Racism and oppression create a complicated emotional space. It is worthy of lament. We recognize, often with tears, that this is not how image bearers are meant to treat one another. It recognizes that we can't fix this problem, and we are relying on God and His promises to bring this to an end. Vroegop identifies four elements of lament: turning, complaining, asking, and trusting.
Lament is part of the "fivefold path" of reconciliation he also identifies: love, listen, lament, learn, and leverage. And here is why we never seem to leave the station, we keep waking up to the same day and the rock keeps falling down the hill. I lament that there are many who refuse to listen and learn. I feel like the kid who's ready for multiplication and we can't seem to get past addition and subtraction.
Too often we don't listen because we are too busy keeping score. We compare the sins and crimes of individuals committed against people we know with the sins and crimes committed against others because of the color of their skin. We compare apples and oranges (in my mind anyway) and refuse to acknowledge how life could be filled with obstacles for others that don't exist for you.
This leads to part of my great frustration with the "race problem". I get the picture. I watched Roots on TV when I was a kid. I watched many movies like Amistad, Rosewood, Mississippi Burning, Glory (and the list goes on and on). I knew about Tulsa years ago. I know there are racist laws (but not the whole system is racist, nor is every white person). I'm ready for us to change the racist laws. I'm tired of talking about what has changed as if it hasn't (the 3/5ths Compromise is not law anymore- praise God). We can't seem to accept advancement because that somehow means claiming nothing needs to change. No, some things need to change but we don't need to "burn it down" either. When you burn down your house, you've got no place to live. We don't need to be homeless, but we need to get the mold out. I do agree with him when he says "the gospel is more foundational than our most painful historical categories". Let's live like it instead of picking at the scabs and waiting for the same issues to represent themselves because we've done nothing.
"When Christians from majority and minority cultures learn to grieve together, they affirm their common bond as brothers and sisters in Christ. Lament enters into the deep emotions of sorrow, hurt, misunderstanding, and injustice."
Vroegop wants us to listen, in particular, to African-American spirituals. Listening to their laments can help develop proper empathy, a willingness to recognize that our brothers and sisters are in pain. This is not the only way he wants us to listen, but it is a way to hear the historic pain. He points us to some rappers who share laments as well.
It isn't just the past that is the problem, but the present. I want to hear about my friends' experiences. Although I guess friend may be too strong a word since I'm not trusted with their pain. Perhaps I'm not trustworthy. Perhaps they aren't willing to trust. Getting on the bus together should mean personal, not simply collective, stories.
A cultural (not racial) difference is the individual vs. more collective thinking. White American culture isn't focused on white people so much as America. THAT is our community identity. On 9/11 people didn't grieve that white people died in those towers and those planes, but AMERICANS regardless of their pigmentation. Most see nation above ethnicity. When the Marathon bombing took place I wept because that's my place, my home and Patriots' Day is our version of Juneteenth because I grew up there. It had nothing to do with race, and everything to do with place. As a result, the focus on race over place, over national identity is hard for many majority Americans to understand. Again I digress with my own little laments.
One powerful spiritual he uses refers to the pain of being sold and separated from parents and siblings, spouses and children. This is generational trauma. Sadly, many now choose this trauma as they abandon women and children. This is not a legacy people choose willingly, but is rooted not only in the realities of slavery but the racist welfare laws of our nation's "war on poverty". All this is worthy of lament.
In his own congregation he's seen reconciliation take place on their civil rights pilgrimage. They traveled South, visited places like the Lynching Memorial. There white people began to see the horrors committed (sometimes in places they grew up), and minorities shared their personal pain. People lamented together and moved closer together.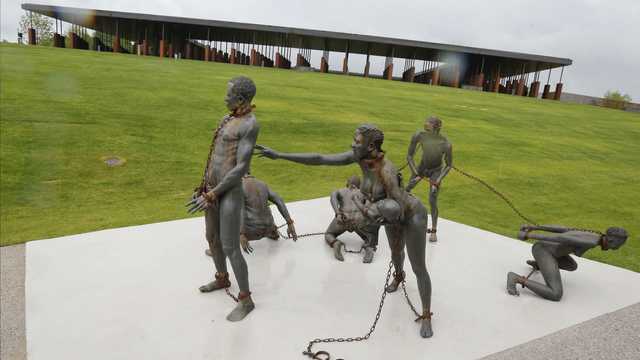 Part 2: Lament and Majority Christians
He begins with more about empathy, which is a controversial subject lately (and unfortunately). To weep with one another doesn't mean that we agree with everything they think. We do agree with them that their afflictions are deep and worthy of sorrow. He defines empathy as the "ability or willingness to understand and care." Lamenting together is sharing pain, and this helps form community.
I can grow in this. He offers a test, quoting a message by Mika Edmonson. My heart wonders about the statistics. This is not a denial of the problem, but questioning the magnitude of the problem. I want my African children to be wise in dealing with the police, but not fearful of police. I don't think the police are coming gunning for my kids, but I think there are some bad cops who might. I refuse to believe its "open season" on my kids. I do believe that there are evil people who break the law, and they should be punished if they do. Derek Chauvin did and was.
Raising kids, I'm skeptical about the first story I hear. Having watched the news for years, I'm skeptical about the first story I hear. I don't want to jump to conclusions. Been there, done that and it never works out well. I want to sort out what is actually going on, not simply surrender my mental faculties to emotions. In a world filled with lies, false narratives and wilful attempts to deceive there is sadly cause to be cautious at times. I want to be empathetic but not gullible. I've seen cities burn over false narratives. Jumping to conclusions can have disastrous results which are just as evil.
Vroegop addresses six reasons we can choose silence. Fear drives silence for many, and this takes many forms. Uncertainty about the facts of a case (wisdom!) or feelings (??). Many have wounds from past experience. Many are ignorant and don't understand the layers of injustice and racism. Some are selfish. Some are racist.
Minorities have long been frustrated by silence. We don't have to speak with all the answers. But we can lament, express sorrow for the way sin has twisted our relationships.
The 6th chapter is called Repent and subtitled Remembering with Remorse. These are not quite the same. Many struggle with repenting for the sins of previous generations. It shouldn't be an issue when we are part of the same community (example: a church that was formed out of the fear of desegregation), especially for those of us who hold to covenant theology. But at times we aren't so connected. Expressing remorse may be quite helpful. Lament vocalizes sorrow for past wrong whether we committed them or not. Some of us need to personally repent of racist actions, attitudes or passive indifference. Some of our communities need to repent, as some denominations like the PCA have for support of slavery, Jim Crow laws and other aspects of racism. We can express corporate remorse even if we don't feel the need to repent. Pastoral laments can go a long way in opening some of the doors for reconciliation in a congregation.
Part 3: Lament and Minority Christians
While this section is about minorities, many "majority" culture Christians should get ready to experience much of what he's talking about here. He's talking about the voice of exiles. Christians are exiles, though we've been part of the majority culture and thought we weren't: we are. He errs in thinking that the exiles of the Old Testament were only physical and not spiritual. It wasn't just a change of geography and custom but they were surrounded by paganism.
Minorities have a sense of exile, "otherness". It is the sense of not only not belonging but not being wanted. The experience of minorities in many cultures (not just America) is they are not wanted there. This is something Christians of all people should understand, we are generally not wanted in cultures and increasingly unwelcome in America. This lack of welcome is for minorities a cause for lament. Lament does reorient us in our pain. It reorients us to God and His promises. Lament ends in hope, not because the situation changed but because it will. There will be racial reconciliation in the church. We will all be gathered around Jesus, not looking at one another but at Him who made us a new humanity. We have hope, and are a community of hope. Red warned Andy that "hope is a dangerous thing". It is dangerous for the oppressor, not the oppressed, however. To lose hope is to stop trying to work toward reconciliation.
Perhaps the loss of hope is the result of misplaced hope instead of biblical hope.
At the end of each chapter, Vroegop includes an example of lament, written by a variety of people. He also includes questions, some helpful and some less so, to process the information.
Where he sticks with Scripture and the application of biblical principles, Vroegop's book is helpful. When he depends on sociological concepts connected to CRT and/or anti-racism the book is less than helpful. There are some bones to spit out but the church could be well served by lamenting together regarding our racial, political and ecclesiastical problems. Some of mine probably made this review harder to read.
Personal Story and Lament
In middle school I road the bus to school. There were some kids from the next street over who decided to regularly tease me for my "greasy Italian hair". They never did this in elementary school but suddenly I was a target.
Like any middle school boy I was self-conscious. I began to wash my hair with shampoo for oily hair. Problem is, my hair wasn't oily. My hair became increasingly dry and brittle. I was destroying my hair because some kids who felt bad about themselves decided my being Italian made me less then them, an object of ridicule and derision, unwanted and unworthy.
Father, kids can be so cruel in their desire to fit in, to belong. To float their fragile sense of worth they attack the worth of others. We've all done this, and been victims of this. We lament those who've been made to feel less because of the color of their skin, because of their accent, or a different kind of church. We lament that this happens every day, under our noses. We lament that the power of the flesh is so destructive and divisive to the beautiful community we could be under the reign of Jesus. We long for the coming of the kingdom in its final fulness, when we stop looking at one another full of envy, jealousy and hatred but love one another because You have loved us to the full. That day when we are focused on Jesus, who sits upon the throne and are overwhelmed with His glory, a glory He shares with all His people. Bring peace to your people from every tribe, nation, tongue and language. Sustain us until then as we feel overwhelmed by the strife and sorrow produced by sin.