As I noted, I was fascinated with the first part of The Rise and Triumph of the Modern Self. It was largely describing the shifts that had taken place to find ourselves with a third world culture, psychological man and the expressive self. This week I began to read Brave New World by Aldous Huxley which seems to describe the very culture Trueman discusses but one in which the first and second world cultures no longer exist like they do now because Christianity is a thing of the past in Brave New World.
The second part of Trueman's book focuses on the thinkers who laid the foundation for a third world culture and the expressive self, dismantling the idea of a transcendent morality. This is not as fascinating though certainly not boring. It covers a variety of major thinkers in the 18th & 19th centuries.
Rousseau
First Trueman addresses The Other Genevan, Jean-Jacques Rousseau. John Calvin was the first Genevan (he was actually French but in exile in Geneva for the vast majority of his adult life), one of the most important Protestant Reformers whose writing also influenced politics, helping set the stage for Democratic Republics like the United States.
Our world currently reflects the influence of Rousseau more than Calvin. He was greatly influential for Sigmund Freud who will show up in the third part of Trueman's book. Rousseau sought to find reality by looking within instead of looking outside of himself. Trueman characterizes him as one of the "strangest geniuses in the history of Western philosophy." He is like the anti-Augustine with his own autobiographical Confessions.
"I want to show my fellow-men a man in all the truth of nature, and this man is to be myself."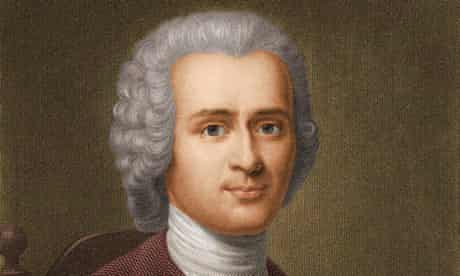 Augustine posited evil within through humanity's fall into sin through Adam's disobedience as our covenant head. Augustine points to the theft of some pears "for the hell of it" since he and his friends had no need of the pears.
Rousseau points to being forced (from his perspective) to steal asparagus from a man's mother so the man could sell it to make money. He was not greedy, but was obliging another (who was either needy or greedy though hadn't grown asparagus of his own). He uses this to posit evil in society. He had not desire to steal, but felt social pressure. Like Adam when questioned by God, Rousseau began to see his deceit and laziness as the result of his master treated him poorly and his manipulation and covetousness resulting from his father's severe punishment. He shifted blame for his sin onto corrupting circumstances.
While on a journey from Paris to Vincennes in order to visit a friend, he came across a newspaper sponsoring an essay competition. He decided to submit an essay on the subject of whether or not the restoration of the sciences and arts has improved morals. In putting his thoughts together he developed the basic framework of his philosophical system.
Man in his primal state is innocent and good. It is society that corrupts us. They shape us, not to restrain our darkness, but rather to corrupt us. Society rejects the authentic human being and forces people to live a lie. It condemns our self-love, our self-preservation. Costanza throwing women and children out of his way to escape the fire is understood as a good thing.
The moral and virtuous person is one who follows their instincts. Their sentimental or emotional response are correctly in line. It is not about thought, facts and the impact on others, but being yourself in all your glory (or infamy). Ethics becomes rooted in sentiment, providing the seed for MacIntyre's emotivism. Ethical standards are not objective standards, but personal sentiments though he tried to reject that idea that this results in moral relativism. He wanted people to act according to their nature- which is good. Augustine's "love God and do what you want" becomes "love self and do what you want."
This all means that society tries to put you in its box and that is wrong. History becomes about how societies corrupt human nature so we cannot be who we were meant to be.
At the end of the chapter we see how the meaning of empathy shifts as a result. Empathy shifts from compassion or understanding of another's circumstances to wanting others to be happy on their own terms. In Doug Wilson and John Piper's war on empathy they are arguing against (capitulating to?) this contemporary perversion of empathy instead of arguing for the biblical use of the term. Just a thought.
The Poets
Trueman then shifts to Wordsworth, Shelley and Blake calling them Unacknowledged Legislators. He doesn't spend much time on Blake, which I found disappointing since some Christian musicians referred to some of his poetry in their music (and he briefly makes an appearance in The Frankenstein Chronicles). These poets were leaders in Romanticism which largely was about how to communicate truth. Gone are logical premises and conclusions and in come meter and verse. They were about feelings. Poetry wasn't simply sharing one's thoughts on a relationship, a tree or sunset, it was a political and possibly revolutionary act. Shelley called poets "the unacknowledged legislators of the World."
Wordsworth argued for expressivist poetry, focusing on emotion and the ordinary which was typically rural as subject matter. The feelings make the actions described significant. It builds on Rousseau's innate goodness, emotion and sentiment as ethical mile-markers, the pursuit of authenticity and society as corrupting.
"The fall of humanity into the inauthenticity that Rousseau posits with the rise of inauthentic social existence is for Wordsworth that which takes place with the dramatic rise of urban life in the late eighteenth century."
He wanted a return to the rural, the supposedly natural, simple and less corrupt. As a former local talk radio host would say, "Nature is not nice." Mountain men, seeking to escape the confines of society often led brutal lives, not simply lonely ones. Many are fascinated by Into the Wild about a young man who forsakes civilization to live in the wild of Alaska. His death is somehow seen as heroic instead of a pointless tragedy. The quest just seems to be an escape from responsibility and mutual obligations.
But for Wordsworth, civilization corrupts and hides true humanity from our eyes. He forms an antithesis between nature and culture or society.
Shelley saw poetry as a result of the forces of nature moving the poet. It is about the impact of nature on one's soul. Story, narrative, is about facts which are often detached from meaning and significance. They are but they don't reveal our true nature. Poetry helps us to see beyond our experience to the harmony of nature that exists. Rational argumentation is a corruption from society, Authenticity is about aesthetics. These emotion stirring words lead to one's moral improvement. They exalt intuition over reason. Shelley laments, oddly, that the writers he most admired (despite using reason)- Locke, Hume, Voltaire and others- did not impact the world because of how they wrote. They didn't liberate humanity. Rousseau alone, he thinks, was a poet, not a mere reasoner. Like Wordsworth, "true morality is always built on a foundation of sentimental morality."
These poets, particularly Blake, hated the church in particular. The church restrained "natural desires". For Blake this apparently included inhibiting free love with a requirement for monogamy. So we find poetry subversive toward the church, traditional morality and marriage. The church is seen as an enemy of authenticity and therefore natural morality. It inhibits the purpose of life, personal happiness, with talk of glorifying and enjoying God forever.
The Emergence of the Plastic People
The final chapter in this section deals with Nietzsche, Marx and Darwin as philosophers who furthered the destruction of the 2nd world culture through the rejection of Christianity through existentialism, materialism and evolution. They helped create plastic people. "Psychological man is also a plastic person, a figure whose very psychological essence means that he can (or at least thinks he can) make and remake person identity at will." His/her identity is a putty nose, reshaped according to the desire of the moment.
Consumerism, a product of late capitalism, supports the idea that what we buy and use is central to who we are. We deserve a break today. We can have it our way. If we use this toothpaste we'll "get lucky". The same is true if we chew the right gum. This is the notion of self-creation. It is wishful thinking, obviously, but it is the message used to sell all kinds of products. Our desires change over time, and even though the previous set were not fully satisfied, we hold out hope the newest set will be. Until recently we've realized that our bodies, not our desires or psychology, has the final say. No matter how hard I tried, I could not be like Mike.
"All three in their different ways provided conceptual justification for rejecting the notion of human nature and thus paved the way for the plausibility of the idea that human beings are plastic creatures with no fixed identity founded on an intrinsic and ineradicable essence."
Nietzsche spoke of the death of God, killed by us. We did this with Enlightenment philosophy which rendered God unnecessary and intellectually implausible. To have removed God, one then destroys the "very foundations on which a whole world of metaphysics and morality has been constructed and depends." With religion have been "proven" false, the influence of religion should end as part of the social imaginary. People need to be consistent, and stop keeping God as part of the equation. The universe has no intrinsic meaning, and neither do any of us. Meaning must be created and becomes personal and culturally relative and constructed.
Morality, for Nietzsche, becomes "herd morality." This was a response to Kant and his ethical imperatives. He wants Christians and Kant to realize their truth claims are not objective but about how they want the world to be. He sees Christianity as exalting weakness over strength, and Kant as exalting his moral preferences to categorical imperatives. The psychology of our values must be examined. This is essentially the abandonment of moral theory, according to MacIntyre. Christianity and Christian morality is not simply indefensible, but for Nietzsche they is disgusting.
The same holds true for human nature. We are free from essentialism, the idea of intrinsic value and meaning or purpose. We are free to create our own value, meaning and purpose. The authentic life is lived for these values, meanings and purposes YOU hold dear. He doesn't collapse into nihilistic despair but calls us to live in a way that maximizes personal satisfaction. It boils down to "you do you."
Marx stood opposed to Hegelian thought. Hegel viewed human nature as in process, changing over time. Marx rejected idealism to focus on a materialist approach. The intellectual struggle of Hegel is replaced by material conditions that shape our ideas and self-consciousness. He saw the industrial revolution as transforming social structures and remaking society. Nobility was replaced by rich capitalists as the agrarian culture was replaced with the industrial, urban society. Humanity changes over time with these material changes. It is not simply that people adapt to new circumstances while maintaining human nature; their nature changes. All human organizations are therefore implicitly political.
When it came to religion: "Man makes religion, religion does not make man." He saw it as "the sigh of the oppressed". Religion prevented people from being fully and truly human. It contributes, like capitalism, to our alienation. Capitalism, he argued, alienated us from our work and its produce. Religion alienates us from ourselves and others.
He viewed technology as shaping human nature, not human nature using technology. Technology makes it possible for a man to become a woman (and vice versa). Our ideas of gender become putty noses we can put on and take off at will.
Morality, like religion, supports the status quo. The political struggle will necessarily change morality to establish a new (presumably better) status quo. In the history of revolutions the new status quo is often more horrifying than the previous status quo, particularly as we witness the French revolution, the Bolshevik revolution, Third Reich and the Cultural revolutions in China, N. Korea and Cambodia. All of these tossed religion and traditional morality aside and destroyed all who disagreed. The utopian ends that Marx envisioned became a nightmare for all but the elites, the Party.
Marx was dependent on Darwin and his view of evolution. Engels noted as much at Marx's graveside. Darwin separated humanity from any meaning, value and significance with his theory of evolution. He was not the first to advocate a form of evolution, but he removed God from the equation and with God a purpose. He tried to bring human nature under the realm of science. To remove an end or purpose is to require a new understanding of who and what human beings are. We are now a cosmic accident, and there is no such thing as transcendent ethical standards beyond that which furthers the survival of the species (though one is not sure why this is important).
Trueman notes that the social imaginary is permeated by the ideas of these three men. In the case of Darwin, the simple ideas persist despite changes in scientific understanding and theory. Darwin for one has facilitated a faith in science and scientists as our new priests who teach us the sacred. More importantly, the idea of human nature as foundational for human purpose has been eliminated. Pop culture communicates Nietzsche's ideas for living for the now and for pleasure. Self-creation leads to expressive individualism since the self I create is assumed to be good since morality is oppressive. They all argued for poiesis, and demantled mimesis. History and culture must be undone, overcome, removed and replaced.
All three reject the idea that we were created as righteous, and in the Garden our forefather Adam disobeyed plunging us into ruin resulting in the very oppression, violence and sexual immorality they see and at turns reject and yet affirm (on their own terms).
And so we see the stage is set for the therapeutic and expressive set cut free from traditional morality. In the third section we will see how sexuality became central to the understanding of the self.