Let's go back to creation to understand women as God designed them.
Genesis 1:26-27
ESV
NASB
NIV
26 Then God said, "Let us make man in our image, after our likeness. And let them have dominion over the fish of the sea and over the birds of the heavens and over the livestock and over all the earth and over every creeping thing that creeps on the earth."

27 So God created man in his own image,
in the image of God he created him;
male and female he created them.

26 Then God said, "Let Us make man in Our image, according to Our likeness; and let them rule over the fish of the sea and over the birds of the sky and over the cattle and over all the earth, and over every creeping thing that creeps on the earth." 27 God created man in His own image, in the image of God He created him; male and female He created them.
26 Then God said, "Let us make mankind in our image, in our likeness, so that they may rule over the fish in the sea and the birds in the sky, over the livestock and all the wild animals, and over all the creatures that move along the ground."

27 So God created mankind in his own image,
in the image of God he created them;
male and female he created them.
We notice a few things cosmetically. The NIV adds "wild animals". Not pertinent to our point. Both the ESV and NIV have vs. 26 as prose and vs. 27 as poetry (due to the parallelism within the verse). The NASB has it all as prose.
One issue involving Genesis 1 is how much of it is poetry. Parallelism can be used to structure larger passages without it being poetry. I think this is what happens in much of Genesis 1. We see the repetition of phrases for regularity. But in verse 27 we seem to see poetry as the same idea is turned over and repeated for emphasis in creative ways.
Image (6754/1923a) image, images, likeness (resemblance) TWOT: basically refers to a representation, a likeness. In addition to referring to humanity, it refers to an idol. Selem in particular refers to the image as representation of deity.
Likeness (1823/437a) likeness, similitude, in the likeness of
TWOT: This is the only place these two words are in parallel. Here are the 4 main interpretations:
Roman Catholic (and some Eastern Orthodox) theology pointed to image as our "structural likeness to God" which survives the fall. Likeness refers to Adam's moral image which is destroyed in the fall (and renewed by grace).
Image is the more important word but likeness is added lest we think man is a precise copy. It is less specific and more abstract.
There is no distinction.
Likeness amplifies and specifies the meaning of image. We are not simply representative but representational, the visible representative of the invisible God.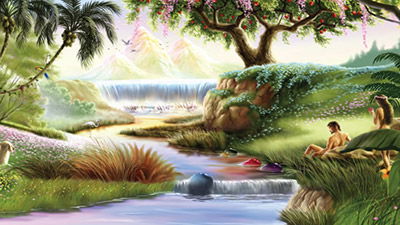 What the image of God is has been controversial and confusing: relational (God is love, and we see both man & woman), dominion (immediate context), intellectual/rational, spiritual nature, external representation/representative, dominion (the NIV clarifies with a logical connector). Meredith Kline sees it as prophet, priest and king in Images of the Spirit.
That we are in the image of God means that we can communicate with God. We maintain the Creator-creature distinction. But God created us with the capacity for advanced communication (language).
OPC Report
The Genesis account ascribes to woman an exalted standing. It spends most of its time on complementarity instead of the topic at hand. We'll return to this topic later.
Pratt, Designed for Dignity
"They were finite, physical representations of their Creator. As astounding as this description may be, we must not miss how it discloses our humility. We are images of God, but that's all we are- images." (pp. 4) IOW, we aren't gods.
This is, in part, a polemic, against the nations who believe that their leaders were gods. But everyone else was clearly not. There was no equality.
"We are images, but we are images of God. God did not make Adam and Eve to resemble rocks, trees, or animals. Nothing so common was in his design for us. Instead, God carefully shaped the first man and woman so that they were in his likeness. He determined to make us creatures of incomparable dignity." (pp. 8-9)
Kidner, Genesis (TOTC)
"The words image and likeness reinforce one another: there is no 'and' between the phrases, and Scripture does not use them as technically distinct expressions, as some theologians have done, whereby the 'image' is man's indelible constitution as a rational and morally responsible being, and the 'likeness' is that spiritual accord with the will of God which was lost at the Fall. … As long as we are human we are, by definition, in the image of God. … Manward, it requires us to take all human beings infinitely seriously. And our Lord implies, further, that God's stamp on us constitutes a declaration of ownership." (pp. 50-51)
For instance, homeless people (or any category of person people diminish) have more dignity and value than expensive show animals! They are still made in the image of God and the animals are not.
Calvin, Commentary Upon the Book of Genesis
"As for myself, before I define the image of God, I would deny that it differs from his likeness. For when Moses afterwards repeats the same thing, he passes over the likeness, and contents himself with mentioning the image." (pp. 93-94)
Ross, Creation and Blessing
"After bringing order and fullness to the creation, God created human life to enjoy and rule the now habitable world. … God continually makes boundaries and sets limits for the self-perpetuating creation, boundaries that the law will employ in teaching the principles of holiness and cleanness. … The text shows that human life was set apart in relation to God by the divine plan ("let us make man"), by the divine pattern ("as our image"), and by the divine purpose ("let him have dominion"). … It does not signify a physical representation of corporeality, for God is a spirit. The term must therefore figuratively describe human life as a reflection of God's spiritual nature; that is, human life has the communicated attributes that came with the inbreathing. Consequently, humans have spiritual life, ethical and moral sensitivities, conscience, and the capacity to represent God. The significance of the word "image" should be connected to the divine purpose for human life. Von Rad has made the analogy that, just as kings set up statues of themselves throughout the border of their land to show their sovereign domain, so God established his representatives on earth." (pp. 112-113)
Waltke, Genesis: A Commentary
"First, the term image refers to a statue in the round, suggestion that a human being is a psychosomatic unity. Second, an image functions to express, not to depict; thus humanity is a faithful and adequate representation, though not a facsimile. It is often said that the Bible represents God anthropomorphically. More accurately, a human being is theomorphic, made like God so that God can communicate himself to people. … Third, an image possesses the life of the one represented. Fourth, an image represents the presence of the one represented. Fifth, inseparable from the notion of serving as a representative, the image functions as ruler in the place of the deity." (pp. 65-66)
"In ancient Near Eastern texts only the king is in the image of God. But in the Hebrew perspective this is democratized to all humanity." (pp. 66)
"The important addition of "likeness" underscores that humanity is only a facsimile of God and hence distinct from him." (pp. 66)
Waltke repeats the ideas that we are like God to represent God, and to communicate with Him.
Leopold, Exposition of Genesis
"This feature in man's being is a second mode of setting forth prominently the singular dignity of man: Man is not only made after the deliberate plan and purpose of God but is also very definitely patterned after Him." (Vol. 1, pp. 88)
"So we shall have to regard the second phrase, "according to our likeness," as merely supplementary to or explanatory of the first." (Vol. 1, pp. 89)
He notes the repetition (3x) of create to get the point across. Man (male and female) was CREATED. Humanity is not an accident.
Morris, The Genesis Record
"He was not speaking to the angels, because man was not going to be made in the likeness of angels but in the likeness of God." (pp. 72)
"And yet man was to be more than simply a very complex and highly organized animal. There was to be something in man which was not only quantitative greater, but qualitatively distinctive, something not possessed in any degree by the animals." (pp. 73)
IOW: man is not simply another animal as secular humanism insists.
Summary:
It is easy to get lost in the potential meanings of "image of God". This is important, but not necessarily to our current study. We will not that as made in the image we are rational, relational, spiritual, moral and volitional beings intended to reproduce, subdue and rule the rest of creation as a result of His command.
What we must affirm is that both men and women have been created in the image of God. They have an equality before God in creation. While they may have different roles in the church and home, they are equal. There is no essential hierarchy as in patriarchy. There is a complementary relationship between the sexes.
While Augustine seems to argue that Adam only needed help in procreation, we should recognize he needed help in all aspects of the vocation given to him. Women can work alongside men to subdue and rule, to till the garden. For instance, in an early date with my now-wife, we worked in my flower beds so I could see how we worked together. Women are not limited to having & raising children, but are valuable in fulfilling all aspects of the creation mandate. Therefore we should expect women to have a variety of gifts from God for the fulfillment of His calling to humanity.