Recently new of the overture from Metro NY Presbytery has been burning up the internet and PCA pastor & elder groups on Facebook. I assume the same is true on Twitter and other social media.
For many this is a very controversial request for the General Assembly to consider this June in Dallas. The issue of women deacons has been churning since before I entered the PCA back in 2010. The issue has more layers than an onion, and just as many presuppositions that drive the (lack of) discussion. Sadly, the discussion quickly degenerates into accusations of being feminists or egalitarians, modernists, progressives etc. and people are told to leave for a denomination that permits women deacons. It is kind of wearisome for me as I grow older (wiser?) and read more John Newton. It is wearisome because we never really get to the root of the issue (those presuppositions) like the nature of ordination and authority, particularly in connection with the office of deacon.
My first decade in ministry was spent in the ARP, which allows each Session to decide if they will have women deacons. As a result, much of this overture is familiar with me. It is not forcing women deacons on churches, but permits those having that conviction to exercise it. This does not affect the courts of the church since women elders are not (and should not) be up for discussion. The issue of the courts of the church is precisely why most of these 'women deacon-loving' guys don't go into denominations like the ECO and EPC as advised by some.
To the overture!
WHEREAS there has long been a sincere diversity of views among Reformed churches as to what Scripture says about the role of women in diaconal ministry…
WHEREAS conservative, complementarian scholars differ in their understanding of biblical texts that touch on the role of women in diaconal ministry, specifically 1 Timothy 3:11 and Romans 16:1…
WHEREAS there seems to be strong evidence that the word διάκονον in Romans 16:1 is used in a technical manner to describe an office Phobebe holds rather than in a general descriptive manner…
WHEREAS the Westminster Confession does not specifically address the office of deacon…
WHEREAS the Westminster Confession 20.2 does speak of Christian liberty and not unnecessarily binding the consciences of men…
WHEREAS it is in line with the historical spirit of the PCA to be a grassroots denomination and to defer to the judgment of local sessions in decisions regarding congregational ministry…
WHEREAS several conservative, reformed denominations within NAPARC allow women to serve as deacons (i.e. Associated Reformed Presbyterian Church, The Reformed Church of Quebec (ERQ), and The Reformed Presbyterian Church of North America)
The rationale for the overture begins with acknowledging that for quite some time there has been a diversity of opinion in the PCA and Reformed churches as to what the Scriptures teach regarding this issue. That is a key point, "what Scripture says"! This is not about culture, but about trying to rightly divide the Word.
The WCF in the first chapter recognizes the following:
7. All things in Scripture are not alike plain in themselves, nor alike clear unto all: yet those things which are necessary to be known, believed, and observed for salvation, are so clearly propounded, and opened in some place of Scripture or other, that not only the learned, but the unlearned, in a due use of the ordinary means, may attain unto a sufficient understanding of them.
This is an issue that is not as clear as whether or not women may be elders. To me that is crystal clear. Deacons is far less so, which to me means we should be less dogmatic. This is a topic that is not necessary to be known, believed and observed for salvation. This hits the well-being, not the essence of the church. It is important we put this in the right compartment so we don't treat those with whom we disagree as heretics or unworthy of our fellowship. This isn't the hill worth dying on. But we can discuss it, challenge each other and see this in the 'reformed and reforming' category as opposed to the 'faith handed down by the saints' category.
Conservative complementarian scholars do differ on this question. Some live in some sort of denial on this issue. John Piper is surely not a feminist. R.C. Sproul was not a liberal (though he thought the PCA should not have women deacons because of its views of deacons and authority). There are others as well. For instance, you can read the OPC Minority Report on this issue. You can't get more conservative and complementarian than the OPC (yes, it was a minority report and was not approved, but some there held to that view).
T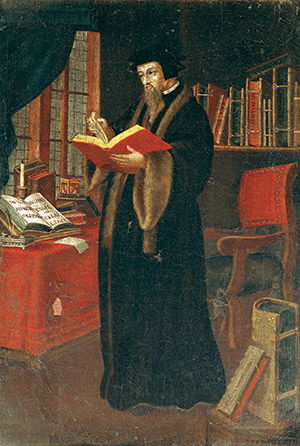 he rationale brings up Phoebe in Romans 16. It mentions that she may have held an office rather than merely being a servant of the church. This is because of a lack agreement in gender; Phoebe being feminine and the word for deacon being masculine. That great liberal egalitarian John Calvin (tongue firmly in cheek) says about Paul's mention of her: "he commends her on account of her office, for she performed a most honorable and a most holy function in the Church…" (Commentary on Romans, chapter 16, verse 1). Chrysostom, according to the footnote, considered her a deaconess (as did Origen which isn't so great).
In his practice, Calvin did have a separate order of deaconness to assist the deacons. Through most of church history they were separate, with the deaconnesses helping the widows, poor women and quite early instructing female catechumens prior to baptism. Some have mentioned this, and perhaps this is a better option that will result in less upheaval.
The PCA currently has provision for assistants to the deacons (9-7), both male and female to be appointed by the Session. I wonder how many churches utilize this provision. I suspect not many do. When I mentioned this as an option for our congregation, I heard crickets. It seems to be another layer of bureaucracy. And it reminds us of Dwight Schrute and Michael Scott going round and round about assistant to the manager vs. assistant manager.
Women deacons, this rationale asserts, is not contrary to the Westminster Confession of Faith. We are not violating our confessional standards if we do this. We are merely changing our BCO which while is also part of our constitution is about how we enact our polity, not the system of theology to which we subscribe. As a result, while there are theological presuppositions at play this is a polity shift, not a move to reject our Confession of Faith, or Scripture (as noted above). This is a different category of disagreement.
The issue of binding the consciences of others is important. Currently, those congregations which believe the Scriptures permit women deacons are not able to practice their beliefs and convictions. Unlike issues like paedocommunion, this is not a confessional issue and perhaps more leeway and charity ought to be practiced. A solution similar to that of the ARP "principled compromise" may be a good way to move. Congregations opposed to women deacons don't have to have them. Their freedom of conscience is preserved, though that of an individual may not. This argument can cut both ways, and should be only a supporting and not a main argument.
Because this issue is not directly related to the courts of the church- who gets to exercise judicial authority- it is about how a local congregation goes about its ministry (women elders necessarily affect the higher courts and aren't simply about how a local congregation functions), it should be handled as a local matter. If your church has women deacons, it doesn't affect mine unless people shift from one to another on the basis of that decision. As a grassroots denomination, this may be best made a local decision.
While not addressing the 'slippery slope' argument explicitly, they do by mentioning other NAPARC denominations which have women deacons. Those denominations have not slipped down the slope. Those that did previously rejected the authority of Scripture (for instance the CRC which rooted their decision in the giftedness of women despite what Scripture said) or just jumped off (the PC(US) which permitted both women deacons and elders at the same General Assembly). Yes, there are some in the ARP and RPCNA who would like to get rid of them.  Not too long ago, however, the ARP affirmed their 'compromise'. We cannot know what will be, but only what has been and is. And those denominations have had women deacons for decades without slipping down that slope.
That is the rationale for the requested changes to the Book of Church Order. I'll address those changes in future posts.