This weekend CavWife and I were able to get away from the kids and church for a few days. It is very hard to get those times away. We enjoyed this weekend: no chores, no cooking.
I was reminded of another time we got away, very early in our marriage. It was a horrible experience.
As recently married people, we didn't have much money. There were some big expenses as CavWife was integrated into my existing home. We needed a bigger bed and other changes so she felt at home. She'd also experienced a big change in her health and wasn't working as we thought she would.
A retired pastor in our small congregation had gotten one of those promotional weekends for a timeshare in Daytona Beach. For $99 you got to stay there a few nights. You had to endure a sales pitch. But it was a cheap way to get away. He and his wife were not going to use it and transferred it to us.
CavWife did a great job working the phones and the angles. We had a beachfront room lined up off site with a kitchenette. She bought food for us to cook so we weren't going out and spending more money than we had. It promised to be a great weekend on the beach.
When we got there the office we needed to go to first was chaotic. We weren't sure what was going on until we finally got to talk to someone. At the last minute (??) it was decided there would be a Dale Ernhardt Memorial concert in Daytona. They didn't know how many to expect for this concert, but the hotel they put us in was pulling the room. Beach-front with kitchenette gone.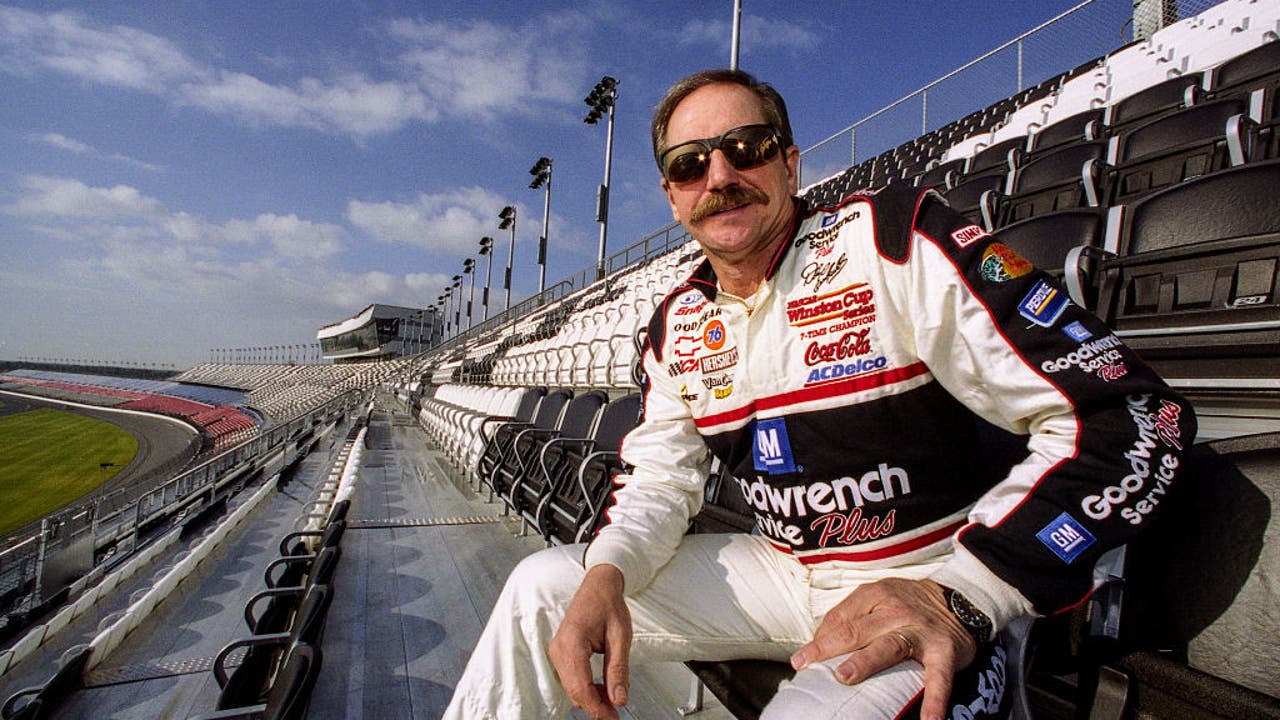 They had another place arranged for us. Did it have a refrigerator to at least store the food we had in the cooler?
The negotiations began. They were painful. They were drawn out. But we had an address for a motel room.
Instead of being on or by the beach, we were near the exit on I-95. I can't recall the particular name of the hotel, but it was a disappointing dump. I'd been in better (non-resort) rooms in developing countries. This room was a disgrace.
It was nearly dinner time so we went to the restaurant next door (Applebee's I think) to eat. The particular health issue affected her emotional reserves. He we are sitting in this restaurant, not near the beach, and she's crying.
We were disappointed. Feeling like we should have just gone home. But when you are a pastor of a small church it takes lots of coordination to takes these times away.
I really don't know how we spent Saturday. I do recall that the dingy, disgusting motel was filled with Dale Earnhardt fans in town for the concert. I know some people who love NASCAR. They are middle class, stable, good human beings. These folks weren't them. It was like being surrounded by Ricky Bobby and his family. They were congregating outside drinking beer. The kids were throwing things at each other (not playing catch) and taking over the pool. Car engines would rev at odd times. It was like we moved into a trailer park.
Eventually we had our promotional visit and meeting with the salesman. It was a decent tour, but I've been to nicer resorts. The sales office was filled with salesmen making their pitch. We got a man who wouldn't take 'no' for an answer. We expressed our lack of desire, and funds, to get a time share. He persisted.
I began to feel an impending intestinal requirement. The unstoppable force was upon me. I excused myself to find a place to take care of business. The place I found was similar to some nightmares I've had. They are trying to get me to buy a place and they can't keep the bathrooms clean and functioning. If I had the money, this wouldn't be the place.
In less discomfort I made my way back. At this point we made a mistake. "We pray about these things. We don't make impulsive decisions." Now the salesman begins to mock us. I'm not sure what he was thinking, but this shaming of our faith didn't make us more inclined to buy, but less. The promised 10-15 minute pitch has become at least an hour. This guy would make a good used car salesman- he just wouldn't listen to us. I had to extricate us from this human vise.
I can't recall anything positive about that weekend. I wish it could be expunged. It is too long of a tale of terror to make a decent sermon illustration.
I'm so glad this past weekend was not a repeat performance.